Interesting Harvey Peace P-47 "Perfection" Back Saw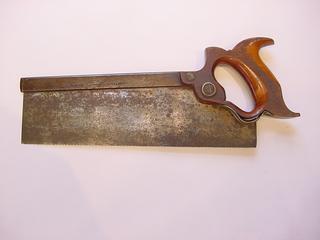 Click for larger image.
Features: Spring Steel, Apple Handle, Two Brass Improved Screws, one Embossed, Nickel Plated Re-Inforce Plate, "Perfection" Handle

This is the only example of this particular saw I've come across. It does not appear in any catalogs or advertisements I've seen, nor is there a number etched as far as I can tell. This back saw differs in many ways from an ordinary Peace backsaw- it has more in common with Peace's Perfection saws. The most distinct feature is the saw's "let-in" handle. The blade is actually cut away, as seen below, to move the user's hand closer to the blade. The apple handle has the patent date of July 17, 1883. This patent covers the carver comfort grip handle which is also featured on the high-end P68 and P70 hand saws. The last unusual feature is the use of Peace's patented nickel-plated re-inforce plate. This is the first example of a back saw I've seen with this feature.
Copyright (c) Joshua Clark 1997-2009