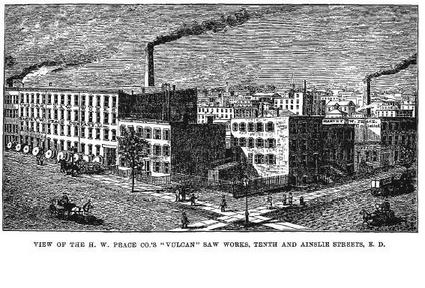 A Brief history of the Vulcan Saw Works- 10th and Ainslie Streets, Brooklyn, E.D., NY
The building that would eventually house the Harvery W. Peace company was involved in saw making before Peace moved his operation to Brooklyn in 1863. The building burns to the ground at least twice.
Note: in the 1800's Williamsburgh, Brooklyn, had its own street numbering system. Tenth Street was renamed Keap Street at some point, and the two are synonymous.
1850Jos. A. RHODES, saw factory was established about 1850. Rhodes was one of the skilled workmen brought here by the elder R. Hoe, he died in 1860, suceeded by BOYD & RENTON.
1863Harvey Peace moves his company to the Tenth and Ainslie location.
August 10,1870 As reported in the Aug. 10 Brooklyn Daily Eagle, at 4 o'clock this morni ng, the saw factory of Harvey W. Peace was entirely comsumed by flames. Damage was reported at $5, 000.
Sept. 3, 1871 Fire at The Harvey W. Peace saw factory. As reported by the Brooklyn Daily Eagle of Sept 4, 1871:
Fire-- or the second time within a few months the saw factoy of Mr. Harve y W. Peace in Ainsley Street, near Tenth Street, E. D., was partialy destroyed by fire, the presenc e of which on the premesis, was discovered at ten minuted before three o'clock, yesterday moening. All but one of the three buidlings were one-story frame structures, two of which were as good a s burned up, a few posts of one only remaining in position, while the condition of the other was bu t little better, and will have to be entirely reconstructed. The fire originated in the tempering s hop around one of the furnaces, and the loss resulting is about $1,500, mainly on stock, which is c overed by policies in three city companies, names not ascertained.